4 Ninja Marketing Strategies You Wish You'd Thought Of

Hi, folks, Cody Sperber here. Today I'm sharing 4 clever marketing strategies that probably haven't even crossed your mind. We all know the "tried and true" marketing strategies (like bandit signs, online marketing, Craigslist, etc.). But, what I'm gonna share will blow your mind (in a good way, of course) because these 4 strategies are simple no brainers you can take action on today.
In fact, I bet after this post, you'll be saying: "Dang that sure is easy. I wish I would have thought about these sooner!" NO worries, friends, I got your back, so let's dive in…
Ninja Marketing Trick #1
So, my first sneaky trick is all about the HOA (Home Owners Association). Did you know that many communities are owned by an HOA? Well, it just so happens that these organizations typically send out a community newsletter or a flyer, and allow 3rd-party advertising in said publication (see where I'm going with this?).
Now, what I like to do is place a one quarter to half-paged ad in the HOA newsletters to ensure they are seen. It usually costs around $150 and will run an entire month. For the best results, expect to run your ad at least three consecutive months. Make sure to include (i) an attention grabbing headline, (ii) non-cluttered sales copy and (iii) a clear call to action.
The attention grabbing headline should read something like:
I'm buying a couple houses in the neighborhood and I'm going to buy quickly and pay all cash.
Don't forget to add your phone number and make it the most prominent focal point of the entire advertisement. Also, make sure they'll be able to leave a message if you can't get to the phone.
If you don't know of any HOAs in your area, don't cry. Cody's got answers. My advice is to have your investor-friendly real estate agent help you find HOA communities.
Ninja Marketing Trick #2
Okay, one of the most creative ways I know of to farm for seller leads is by leaving Post-It Notes. To do this clever little strategy, there are 2 simple steps you are going to need to follow:
Go to Flaire.com (or call 866.428.9611) or a print website of your choosing. If you go to my trusty site, let them know you want to order a batch of Cody Sperber's Post-It Notes. You should only have to give them your company name and phone number to add to my template. You can expect to pay around .03 cents per Post-It Note, (depending on how many you order). I do about 1,000 at a time to get the results I'm looking for.
Choose your farm area and hire someone to actually go out there and post your notes. They need to be posted right smack on the front door of the property. There's a couple ways to do this, you can Google "flyer delivery" or place an ad on Craigslist and hire somebody. But, no matter who delivers your Post-It Notes… always give them some rules to follow, such as: Don't place any notes on properties for sale or trailer homes or any manufactured houses.
Once you have followed those 2 steps, check to make sure delivery has occurred by doing a little neighborhood drive-through in the markets in which you have advertised.
Ninja Marketing Trick #3
This strategy is one of my favorites. It's called Driving for Dollars. Whenever you are out driving around (doing what you need to do in your daily life, running errands, etc.), take a different path and go through neighborhoods you've never been through. When you see you a distressed property (one that looks abandoned, beat up, overgrown grass, trash by the curb, etc.), take a picture of the front of the property.
Now, so once you get back to the office, look it up in the tax records to see who the owner of the property is and their taxable mailing address. As long as it's not a bank-owned property, mail merge the picture of the property onto a little flyer and say something like:
Is this your property? Because I would like to buy it.
Then, write your name and phone number, seal it in an envelope and mail it to the owner's taxable mailing address. You won't believe the huge response you get because of the personalization.
Ninja Marketing Trick #4
Last but not least, I want to explain my bumper sticker strategy. The first thing you want to do is order some bumper stickers that explain you have some discounted properties to sell. I like to order mine from MakeStickers.com. They give you about 250 of them for around $170. They should say something like:
CHEAP FORECLOSURES FOR SALE
<Include website and contact info>
Or…
Text the word "investor" to my code ### to join my VIP buyers list.
Now what you need to do is get a list of foreclosures slated to go to the auction in the next couple of days. How? Well, you can pay for an online service to give it to you or you can simply go to the auction and network with other people who are bidding. Maybe one of them can share their research with you (It's worth a shot. You'd be surprised).
The goal here is determine which ones are going to auction and have tons of equity. Then, go out to the houses and stick your bumper sticker right on the front door. What will happen is… days before the auction, all the cash buyers start researching and visiting the properties to prepare their bids. Many will see your bumper sticker and either call you or visit your website. At this point, you need to start building a relationship with them and add them to your cash buyer base.
Curtain Call
There you go, friends, those are my nifty little marketing tricks. Remember, REI is more of a marketing game than anything else. So go out there and do some clever lead generation and you'll be well on your way.
Yours truly,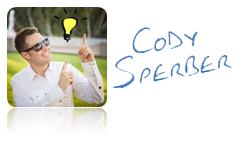 Tags: 3rd-Party Advertising, Bumper Stickers, Community Newsletter, Driving for Dollars, Equity, Farm Area, HOA, Home Owners Association, Marketing, Post-It Notes, Seller Leads
Trackback from your site.