6 Stages of Investing: Show Me the (Private) Money!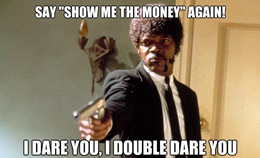 Welcome back to another lesson about Stage 5 – strategy and funding – of my epic series, 6 Stages of Investing.
For Stage 5, we've talked about becoming a Transactional Engineer, financing options, the ethical and legal guidelines to consider when structuring deals and some creative deal structuring ideas. To catch all the goods from the very beginning, though, start with Part 1.
Today, we're moving on to the info that's really gonna get your mojo running… the stuff that's going to make you feel like a caged animal ready to make its first kill.
Let's talk about raising private money.
Raising private money is pure awesomeness.
I cannot tell a lie. I like private money. No, I love it. It's by far the best kind of money out there. And why is that, you ask?
With private money comes low interest rates, flexible terms, and what you see is what you get… meaning, whatever deal you structure, you get. I mean, who wants to read between the lines, right?
Before we talk about finding Mr. or Mrs. Big Bucks, let's rewind for a hot second and actually define private money…
Private money is offered by individuals or organizations and typically comes with non-traditional qualifying guidelines. There are higher risks associated with private lending for both the lender and borrowers (don't panic), but there also tends to be less "red tape" and regulations.
And there are 2 types of private money:
Equity private money means the lender is a partner in a deal. He or she owns a portion of the deal. Period. If you want to stay in control of your deal, I highly advise you to avoid equity deals and run with debt deals.
With debt deals, the lender is truly, well, the lender. The loan is secure, the rates and terms are specific, your profit is bigger, and you maintain control every step of the way.
Is the risk slightly more? Sure. But in the end, the risk will be well worth the reward.
Now that we've had a quick refresher, let's talk about how and where to find private money.
If you wanna win big, you've gotta go all in.
Look, you're not going to find private money unless you go after it. You've got to get out there and talk to everyone and anyone. And the better you are at negotiating and relationship building, the easier it will be for you to secure private money. Ever been to a foreclosure auction? By the next post about Stage 5, your answer better be "Yes!"
For the love of something holy, get out there and work the foreclosure auctions, talk to other wholesalers, become a master marketer, and what I like to call a "backwards" engineer. Do your recon to find cash buyers, and then reach out to them.
Get creative and tell everyone what you do and how well you do it.
Getting in bed with mattress money.
Ever heard of lazy money? Almost everyone you know (probably) has lazy money. Another popular term for it is mattress money. Lazy or mattress money is money that's not earning a return. It's just sitting there on its fat you know what, waiting to be tapped into.
And that's where you come in.
People with lazy money – who are all around you – are what we call "financial friends," and yes… you want them in your life. If you're not sure who is a financial friend, just ask!
Through casual conversation, you can easily uncover the financial friends in your life. They are just one of many ideal private money candidates, so get to know them and their financial backings.
Stock suck.
Well, maybe not always, but in general as it applies to the world of real estate investing, stocks are no good. They're unsecure, volatile, obscure and intangible. In short… ick.
Private money, on the other hand, is the warm and fuzzy we all want and need. Private money is secure and tangible, and it offers limitless opportunities with collateral involved. There's no comparison, really, when you break it down.
But I wouldn't be able to sleep at night (at least not as soundly) if I didn't disclose a warning.
Warning: The SEC is like a giant, all-seeing, all-knowing eyeball thingy that monitors how and why you solicit private money. So just be smart and be honest. Avoid using words like "borrow" when marketing your business opportunities. Present your "strategic partnerships" without sounding shady.
So what had happened was….
I'll close today's post with my own personal story of private money success.
Once upon a time I was buying properties at foreclosure auctions (just like you're going to do if you haven't already). I was busy negotiating and running bids, so naturally I hired some muscle to do recon on my properties. In time, I discovered that my big lug had a "Daddy Warbucks" with major big bucks, so one day (with big lug's blessing, of course) I called him. We met, I shared my business opportunities with him, and he loved me (naturally).
I walked away with a 2-MILLION-dollar line of credit, and from there, my business snowballed… all because I decided to make a move – to take action, to network – and tap into a resource that could (and did) provide me with the private funds to make more money than I thought possible.
But remember, all the money in the world won't mean a darn thing unless you take some sort of action. So get out there, start working, screw up lots of times, dust yourself off and keep moving forward.
Next up, investor friends, is our final Stage 6 – closing the deal. See you at Stage 6.
Until then, stay classy.
Tags: Funding, Interest Rates, Mattress Money, Network, private money, Secure, Terms
Trackback from your site.