6 Stages of Investing: Step into My Seller Dojo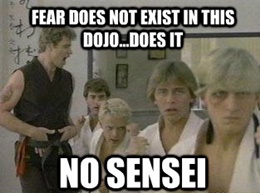 Any martial artists in the house? If you haven't graduated to investor ninja status yet, you will by the time you finish my epic series. BTW – start with Part 1 here.
Cody here to invite you into my seller dojo, my top-secret room filled with investor tips, tactics and killer techniques that will guide you through the offer process with your sellers… and ultimately to the close.
In our last post, we talked about MAO (Maximum Allowable Offer). You learned how to calculate your MAO and why it's important to use this number as a starting point only for negotiation purposes.
Now it's time to get back in front of your seller and negotiate price.
It all comes down to basic psychology and people skills. For most of us, these skills need to develop over time with practice… like, lots of practice. I was a hot mess – to say the least – when I first started in this business. But over time – with practice – I became a confident negotiator. And lucky for you, I learned a few tricks along the way that I'll share with you today.
Friendly Reminder to NOT Be a Jerk
If you're going to work some negotiation magic, you've got to have some tricks up your sleeve. With that said – however – let me stress that being yourself and being genuine throughout the negotiation process is crucial. No matter where you are in the investment process, you should always act with the best of intentions, with your seller's needs in mind and with a genuine desire to help. Everyone should walk away feeling good about the deal. Everyone.
Now that we've got the housekeeping points covered, let's do this, shall we?
Check Yourself Before You Wreck Yourself
So, you're about to walk into your seller's home. Are you ready? Here are some tips to looking, acting (be yourself) and being all around prepared for the part.
Be sure to preview the property before showing up (duh).
Arrive with contracts in hand and partially filled out to make the seller's life easier.
Bring two different colored pens and a pad of paper.
Wear your company logo on your shirt! Polos are perfect.
Dress to impress, but keep it professional yet casual; don't intimidate your seller.
Don't drive up in your Rolls Royce. I mean, come on. Talk about intimidating!
Call the seller before your appointment to confirm.
Foot in the Door, Not Foot in Mouth
You've prepared for the big entrance, right? You've got your contracts, you look the part and you've done your homework. Now it's game time. Here are some talking tips to follow when you're face-to-face with your seller.
Remember, say the wrong thing… and it's game over.
Always refer to your higher authority (your business partner, even if he/she is fictitious) to position yourself on the same side as your seller.
Match and mirror your seller's physical positioning to make them as comfortable as possible – even if it means sitting in doggy doo on their floor (that's a story for another time) or sitting next to them at their breakfast table (not across from them).
Ask lots of "yes" questions to 'train' your seller to agree with you.
Watch Me Pull a Rabbit Out of My Hat
Making the offer and closing the deal all comes down to one thing – rapport.
We talk about it all the time, and we'll continue to do so, because building rapport is the key to closing any deal. If your seller feels comfortable with you, he/she will choose YOU. It's that simple.
Here are some awesome techniques for building rapport and building up to the crucial moment of money talking…
Ask for glass of water. This immediately makes you a guest or friend in the eyes of the seller, instead of a stranger.
Look around the house and start connecting with your seller by finding something in common. If you see sports memorabilia, start talking sports. Cats in the house? Meow it up. Break the ice and show your seller that you have something in common.
Ask for a quick tour. As you go from room to room, ask if anything needs fixing or changing. This is your opportunity to note (in red pen) what needs work.
Take your seller back to the room they seemed most comfortable in to start talking price.
Always sit next to the seller, and if necessary, move your chair next to him/her. Remember, you're always on their side (figuratively and literally).
There You Have It
These are tried and true tips that will help set you up for success when it comes to meeting face-to-face with your seller.
Be genuine, be prepared and continue to build rapport throughout the entire process.
And do it all with class, of course.
Until next time…
Tags: Mirroring, Negotiate, Offer, Positioning, Rapport
Trackback from your site.