How a Press Release Can Propel Your Website to the #1 Ranking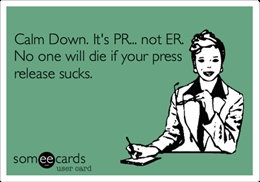 Can you imagine the amount of leads that would pour in if your website were ranked #1? I'm going to teach you how to get your website to the #1 ranking in just 30 days. I don't share this information with just anyone so make sure to take lots of notes! Let's LAUNCH you to the top of the search engines!
Believe me when I say that your competitors have no idea how to become #1 on Google within a shot 30-day span. The cost is miniscule when contrasted with the results you'll get. I call this secret tactic: "Cody's Press Release Pyramid."
I'm going to show you how to create an impenetrable force-field around a single press release that Google can never slap. It's going to drive massive link juice and leads into your lead-collection website causing a huge boost in your website's rankings. Just so this will be crystal clear, I'm going to present a case study where I've taken a website that was non-existent and got it to the top of the search engines within 30 days. My goal was to spend about $1,000 to $1,500 to make it happen.
I began a case study in the first week of the month and I spent $1,300. As mentioned, my goal was to reach the #1 spot. Why do I want to be at the top of the search engine results?
To answer that, you have to look at the statistics based around organic search results. If you know anything about search engine optimization, you know there are paid results up at the top of the page and along the side. Everything else is organic. Organic is free. And once you're in that place, you stay there and the leads keep rolling in.
Check out these statistics:
The #1 spot gets 42.4% of the traffic for that particular search phrase
The #2 spot gets 11.8%; and it drops dramatically from there on…
If you're not in the top one or two or three spots – you're pretty much non-existent.
Google Loves Press Releases
Here's another truth in SEO that you may not have known. Google loves press releases; they love them for a number of reasons:
They're fresh
They're relevant
They offer newsworthy content
They are syndicated to major news organizations and other websites
In my press release pyramid, you take your press release and upload it to the press release syndication site. This site takes your release and throws it out to thousands of websites. This means your realease gets multiplied thousands of times, and traffic is coming to wherever you have links inside the press release.
Syndication is a powerful tool.
You are allowed to include 2 or 3 links within the press release. When someone clicks on those links, it takes them to your website or wherever you point those links.
Your press releases will establish you as an expert and can potentially get you on the news. The real reason for a press release is to distribute the news, so you never know what's going to happen – it could go anywhere.
Problems with Press Releases the Traditional Way
It's too slow! The traditional way to do a press release is to write the release, syndicate it and then a couple weeks later, you come up with something else that's newsworthy and you put it out. You keep doing this every few weeks and it's a slow process. I want leads like yesterday, right?
It's inconsistent! Every time I put out a press release, it would be ranking within the first couple of hours with me distributing it. But soon, it fell away and would drop into cyber page #100. Ouch. I could count on a good ranking for the short term, but over time it slowly trickles away.
So, I created a brilliant solution (if I do say so myself)…
I got so frustrated that I finally came up with the concept of pyramiding press releases. It's a little mini system that works great. Knowing that Google loves press releases, I built upon that concept. I wanted to outsmart Google.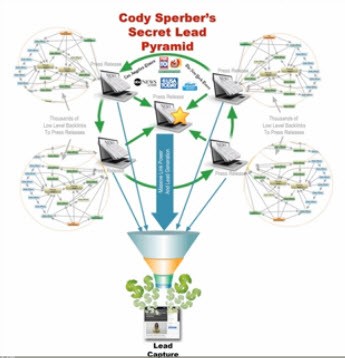 Picture a link wheel, with a press release in the center. All around that are more press releases getting distributed. They're linked together and that causes the center one – aka the HUB – to become the most important of all the press releases.
First, I created a motivated-seller, lead-collection website (CodyBuysHouses.com) and my goal was to get this website to the top of page 1 for all the major search engines for whatever search phrases I was targeting.
This strategy works mainly as a local marketing technique (broad, general keywords will not work for this strategy). I used phrases like Sell my Arizona house fast. That's a phrase I was going to target.
Cody's Press Release Case Study
Step 1 – Google Keyword Tool
My first step was to go to Google's keyword tool. This tool allows you to put in phrases, and it gives results on how much search volume that phrase produces. Take time to brainstorm by writing down every phrase that you think your target audience might search for. So, I just started writing:
Sell my house fast Arizona
We buy houses Arizona
Sell quick for cash Arizona
Pay in cash for Arizona houses
I wound up with 30 or 40… as many as I could put down on paper.
Step 2 – Onsite Optimization
Now it's time to go to your lead generation site and write 700 to 800 words of content. Take your keyword phrases and sprinkle them throughout the page. (Do not resort to keyword stuffing.) You must have a lead collection form on this page as well. If you want to see a good example, go to my site for inspiration (CodyBuysHouses.com). Notice how I've placed my keyword phrases in the content.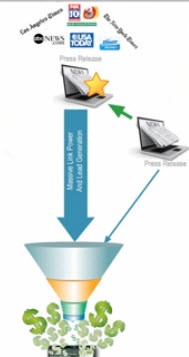 Step 3 – Write and Distribute Press Release
Now it's time to write your first press release. This will be your most important one. You can write it yourself or contract this out. I want you to use the premier distribution service and that is PRWeb. The price is worth it.
You are allowed to add links in this release. In this first, most important release, I want you to use three links. Space them about every 100 words – don't place them all in one paragraph.
Homepage
An internal page in your site (I like to use my "about us" page)
A naked link – that means it looks like this: http://www.whatever your URL is.
This main release will have the highest chances to convert. Take your time with this and be sure it is well-written. Next, add one optimized picture or video to the release, like this example.
Step 4 – Press Release #2
Now it's time to write press release #2, and for this one, I want you to use WebWire as your distributor. This is going to cost less than PRWeb. Now you will see how the circle is going to grow.
This time you will again have 3 links – spaced every 100 words.
Homepage
An internal page in your site (I like to use my "about us" page)
A link to your first press release in PRWeb.
Once again, add an optimized picture or video.
Step 5 – Press Release #3
Two releases are completed and are being distributed. Now you will write your third release. Again use WebWire, and again add a picture or a video.
This time you are going to include FOUR links, and like before, you will space them every 100 words or so.
1. Homepage
2. Internal Page
3. Hub (Press Release #1 at PRWeb)
4. Press Release #2 at WebWire
All of the releases can use the same style and same theme but with different wording. You can release them one right after the other. You have to link them in a specific way, but time-wise you can release them as quickly as you want.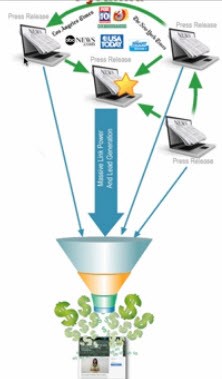 Step 6 – Press Release #4
By now you're getting the picture of exactly how this causes exponential distribution and exposure. In this step, you will create your fourth release – same theme, different wording. Again you will use WebWire and add a picture or a video.
Again, you will include four links, but look what happens this time:
Homepage
Internal Page
Hub (Press Release #1 at PRWeb)
Press Release #3 at WebWire
Press release #4 links to release #3 and the linking continues to grow…
Step 7 – Final Press Release #5
You've come to the 5th and final press release. Do exactly as you have done before – same theme, different wording. Still using your keyword phrases and adding in a picture or video. Your 4 links will be as follows:
Homepage
Internal Page
Hub (Press Release #1 at PRWeb)
Press Release #4 at WebWire
Remember when you created the first release, only 3 links were included. Now go back and add a link in Press Release #1 to Press Release #5.
Congratulations – your circle is complete!
You have now created a wheel, and the center release is getting a bunch of votes from other press releases. What else is getting votes? Your lead collection website. Ans, both the homepage and one internal page. Those pages are getting votes from every single press release plus that center one. They all start off on a level playing field, but the HUB (Press Release #1) gets voted up.
Google looks at this and goes, "Wow! That thing must be important because other press releases are linking to it." This is how you elevate this pyramid of link juice, and then it shoots it right down through your funnel directly to your lead collection website.
But that's not all! Stay with me, we're almost done…
Step 8 – Low-Level Back Links
Next, you want to drive massive amounts of traffic to your external wheel. However, when you attempt to do such tactics, you could get what's called the Google slap. You'll be removed from the search results and disappear.
But, I've never seen a press release slapped. Because Google loves press releases, remember?
Programs exist out there that are designed to create low-level back links. Here are three examples:
Magic Submitter
SE Nuke
Scrape Box
Each of these comes at a cost, and each takes time to learn, and to implement. However, if you go to Fiverr, you can find people to whom you can outsource this work. Go to the site and create a search for any one of the above program names. You'll find providers who are proficient in using these programs. Always look for those with the best reviews.
Case Study Results  
Following this strategy, my site went from no existence to the top of page 1 within 30 days.
And if you Google right now "We Buy Houses Arizona," or "We Buy Houses Phoenix Arizona," or any combination of those words, CodyBuysHouses.com is going to come up #1. I've never done anything else for those search phrases except for this one press release pyramid one time. It has stayed #1 ever since. Also, not only will my main site show as #1 organically, but my release in PRWeb (my HUB) is also on the first page.
Think Outside the Box
And there you have it…My Secret Lead Pyramid – a Press Release HUB. I use this to crush my online competition online.
You have to think outside the box when you're doing this stuff. Fortunately, I'm here to break it down into a system that shows you exactly how to do it. I take the risk; I do all testing and the tweaking.
I like outsmarting the competition and then delivering it out on a silver platter for you. Now what? Will you let this amazing plan sit and die with neglect? Or will you jump in with both feet and send your own website soaring to the top of the Google ranking?
It's up to you!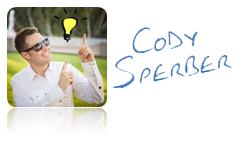 Tags: Back Link, Google, HUB, Keyword, Lead Collection Website, Optimization, Organic, Press Release, Ranking, Search Engine Optimization, SEO, Slap, Syndication, Website
Trackback from your site.