Real Deals: How the "Cowboy Bandit" Nearly Stole my $43k Wholesale Deal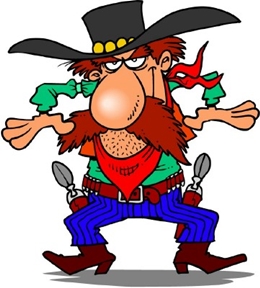 I'm incredibly blessed to be able to say that t this point we've done 1000+ deals and are now landing around a fresh deal or so every day. Because of this, you might be inclined to think that I may not actually get my hands dirty myself with the deals side of things anymore.
Which is so not true. 🙂
The fact is I have intentionally built an amazing team around me to be able to do all that we do, but I still personally get involved in as many of my deals as possible. Why? Because staying "in the trenches" keeps me fresh, sharp, and on top of my game. Not to mention I'm just flat-out wired to be a dealmaker through and through.
Truth be told, there are few things on this earth I find it more fun or rewarding than going belly-to-belly with a motivated seller and crafting a truly win/win deal out of the encounter — about nothing on the planet juices me more.
But also, amid all the wins we get to enjoy, we also still screw up and get the chance to learn from our mistakes. We're human after all, and never stop learning from the ups and downs of every deal we do.
Be a Fly on my Wall
As a teacher, one of my favorite things to do is share with you some of the real life lessons I'm learning from these real estate deals, in real time. So today I'm going to try something a little different, and let you in on something cool.
What you're about to hear is "part 1" of a private conversation with one of my industry friends — a buddy of mine in an entirely different market. From time to time he and I like to catch up over the phone and banter about what kinds of interesting deals we've each been doing lately.
So today you get to be a fly on the wall and eavesdrop in on a portion of our last conversation in which I go in-depth into one of my recent deals and the invaluable lessons we just learned (and in some cases re-learned) in the process.
And let me just tell you, this one was quite the roller coaster, filled with ups and downs and ripe with lessons you can pick up on if you're paying attention.
Why "Part 1"?
I'm breaking this up into parts for you because it's just too much to take in at once and really wrap your mind around. It doesn't get any realer than this, and I want to help you extract everything you can out of it.
So this is part 1, and I'll post the rest of our conversation for you in the near future. When it's all said and done you'll have the whole thing.
In this segment, you'll hear me using some really subtle, ninja-like negotiating tactics in order to secure the deal. You'll also hear how this crazy cowboy next door (not joking) literally moseyed on over and tried to make off like a bandit with my deal right in front of me. Seriously, the guy should have been wearing a black hat…but I digress…
You'll also hear how some quick thinking on my part (and a little tightening of the screws) helped me handle this aptly and regain control of the deal, which ultimately netted me $43,000 as a wholesale deal — one of my biggest commissions for 2013.
Press Play, Listen and Learn…
Just click here to check-out the audio recording.
So what do you think?
Stay tuned for the rest of our conversation about this deal. You may think I just saved the deal and things sound pretty hunky-dory now, but stuff's about to get really weird…from multiple angles, including…
a co-wholesale catastrophe,
a cash buyer who's not quite what he seems,
an assignment from hell,
an unexpected open house that just kind of "happened", and
how the seller went from feeling like family to thinking I'm the devil (but still closing with me)
…and that's just the tip of the proverbial iceberg.
🙂
Tags: Negotiating
Trackback from your site.