How to Buy 10,000 Houses (My Chat With Property Wars' Doug Hopkins)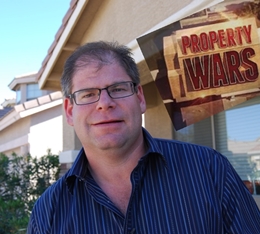 Hi there, folks. Today I'm super excited to share a great video in which I interview reality star Dog Hopkins from Property Wars. Doug is going to share his success story (aka How to buy 10,000 houses), personal investing tips and dish the dirt on what really goes on behind the scenes of this hit TV show.
A Bit about Doug…
Doug Hopkins is a ninja real estate investor from Phoenix, Arizona and star of the hit TV show Property Wars on the Discovery channel. In this interview, Doug candidly talks about how he got started as a real estate investor and what he is doing about the changes in the real estate market.
Buying foreclosures down at the courthouse steps can be fun and profitable, yet risky business… and Doug has successfully purchased more than 10,000 houses this way.
In this Video Doug will share…
Hi bio in detail and how he became a successful investor.
How to play the "Auction Game" with the big dogs in hedge funds.
The influences that are affecting property volume when it comes to auctions.
How flat fees can give you a "leg up."
What to do when someone "steals your cheese."
Getting your Realtor license – does it help or hurt you?
Should you offer sellers the list price or negotiate lower?
Audience questions for Doug and much, much more…
Totally cool of Doug to join us, huh? Well I'm sure you guys are as excited as I am, so without further ado, here is my awesome interview with the King of the East Valley, Doug Hopkins…
Until next time…
Keep it real.
Tags: Doug Hopkins, Foreclosure, Negotiate, Realtor License, Risky
Trackback from your site.