How to Find an Investor Friendly Title Company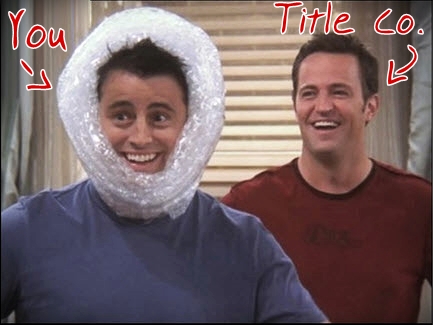 Today, I am going to answer a question I hear fairly often. This one comes from Phil:
Cody,
You are always talking about the importance of having an "investor friendly" title company for closing your deals… I am kind of a Real Estate newbie, but can you tell me why this is so important, how you find one, and how you will know you've found the right one?
— Phil Jernigan, San Diego
That's a brilliant question, Phil. And one I will be happy to answer…
So, What is an "Investor Friendly" Title Company?
This is a main player in your power team. Think about how much you depend on your agent when it comes to timeliness, profit, legalities, connections, trust, etc. I can't stress how important it is to have a knowledgeable agent with which you build great rapport.
An investor friendly title company/ closing agent (or attorney in some states) should:
Specialize in working with real estate investors to close transactions
Have knowledge about wholesaling, double closing (simultaneous), hard money (transactional funding), and other types of transactions
Commit to you willingly and be able to meet your demands
Be someone you see yourself building rapport with naturally
Have solid recommendations/reputation
So, How Do I Find My "Investor Friendly" Title Company?
One thing you should not do is just whip out the yellow pages…
Find your investor-friendly agent by:
Talking to other local investors, especially other active wholesalers for recommendations
Contact transactional lenders. They have many title companies in all 50 states that they can recommend for double closings
Ask for a local referral in any of the wholesaling FB groups
Reach out to your local REIA group. Information like this is often advertised in the news letter
Network in groups such as MeetUp.com
So, I have Some Recommendations, What Now?
Meet with these investors ad have a casual interview. Shake their hand, get to know them, and just hang-out.
Ask potential closing agents:
Do you work with real estate investors?
Are you familiar with wholesaling?
How often have you done double closes?
Since I will be doing so many transactions with you, are you willing to give me a discount (Some will give you 25%-30% off closing costs)?
Who else can you recommend to me (other local investors, hard money lenders, etc)?
So, How Do I Know When I Meet the Right Closing Agent?
Oh, trust me, you will know when you find "The One." He/she will have all the right answers to your questions and you will get that warm and fuzzy feeling inside. 🙂
Cody's Cliff Notes
List the criteria needed for a solid closing agent.
Ask for recommendations and look for advertisements through your local groups and networking.
Meet potential investors and get to know and have an impromptu, casual interview.
Build rapport and trust when you find "The One."
Tags: Closing Agent, Double Close, hard money, Investor Friendly Title Companies, Transactions
Trackback from your site.