The Sneaky Way I Make BANK with Section 8: (Not What You Think)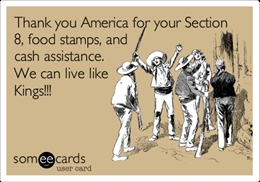 It's one thing to be sneaky and shady. It's another thing to be sneaky… and smart.
And today, it's all about being sneaky and super smart.
I'm talking about a sneaky but savvy little trick up my sleeve that continues to serve me well, one that I've been passing along to my students as well.
And they love it!
Say Hello to Your New BFF, the Section 8 Landlord
We've all heard of Section 8 housing, the government program that landlords use to get guaranteed rent. But did you know that YOU can also leverage Section 8 housing to buy more homes and/or get more cash buyers?
Light bulb!
I know, I know. It sounds a bit crazy, but I promise I'm not nuts.
2 Sites That Make it Oh So Easy to Reach Motivated Sellers
Socialserve.com and GoSection8.com
Section 8 landlords literally list their properties on these sites along with their contact information… right there, in black and white, for the taking, with phrases like "Call Bob!" Who wouldn't call?
Check out the available properties on these sites, and get in touch with the landlords immediately. Remember that you're offering them money making opportunities, so chances are they're going to take a few minutes to chat with you.
In the end, those landlords will either (a) become cash buyers or (b) they'll want to get their properties out of their hair once at for all! Either way, it's a win/win for both of you, right?
Getting in touch with motivated sellers doesn't get much easier than that, friends.
Wrapping Up with One More Awesome Tip
Here's a related tactic that works…
Call or mail letters to landlords who are advertising those same types of properties on Craigslist. Most investors simply don't think to do this, and that's to your advantage!
Be one of the few who do and who act. Get your hands on (or have your virtual assistant get his/her hands on) those potential motivated sellers today. This is a high-impact, tactical strategy that can help you secure more deals and more cash buyers.
Until my next post, stay awesome.
Talk to Me
Have you done Section 8 deals? Tell us about it below.
Tags: Cash Buyers, Landlord, Motivated Sellers, Section 8
Trackback from your site.