Power Team Essentials Part 12: Choosing the Right Mentor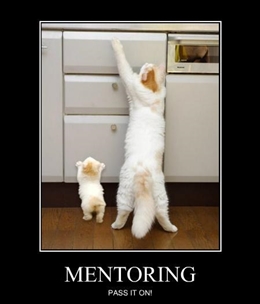 Congrats! Part 12 is our last and final installment of my awesome Power Team Essentials series. You've made it! Before we celebrate let's dive into this final post in which we'll be discussing mentors and mentoring.
And if you haven't taken in the rest of this terrific series of posts, make sure you check 'em out: part 1, part 2, part 3, part 4, part 5, part 6, part 7, part 8, part 9, part 10 and part 11
Open Heart; Open Mind
Mentors come in all shapes and sizes, and each one is different. Typically they come into your life when you have an open heart and an open mind to hear what they have to say.
Nobody, and I mean nobody, can force you to be something that you're not willing to become. In other words, you must be ready to learn from other professionals who have blazed the path ahead of you. You choose to hook up with a mentor because that person has more experience than you do, and that alone is going to help fast track you to success.
Remember that a mentor can only take you so far. If you're not willing to listen and learn, and then apply action to what you've learned, it will be an exercise in futility. This is the reason why many beginner investors pay for my courses. They want to be able to pick my brain and see if my systems can help them achieve their goals faster than winging it on their own.
Look for Someone with Experience
When you start looking for a good mentor, be sure that person has had considerable experience in real estate investing. (This should be easily verifiable.)
You want someone who invests in real estate currently – not just years ago. Why is this important? Because you need someone who deals in, and is knowledgeable about, today's market. They also need to be successful in their endeavors.
A Dedicated Educator
Also keep in mind that not everyone is a good teacher/instructor. Not every successful investor even enjoys teaching. (Being a good educator is a lot of hard work.)
Think back to the teachers you've had in the past; I bet you can remember the names of only a few. You probably remember them because they were either very good or very bad. Which is to say, not everyone can teach. So make doubly sure that the person you select is both – a successful investor and a dedicated educator.
Additionally, your mentor should have proven systems and a support staff to help you along with your journey and provide the support that you need. You'll want someone who can offer references. Find out who else has benefited from the knowledge and expertise of this mentor. What do they have to say about their experience being mentored?
Keep your eyes and ears open at all times as you are on the lookout for your mentor. And don't settle for second best.
If you're interested in having access to me and my team, feel free to check us out at Clever Investor Coaching, where you can see if our group offers what you need in the way of a mentor and a mentoring program.
Let's Wrap this Whole Thing Up
Well, there you have it – all 12 of the team members who will be instrumental in your future success.
Spend the time it takes to see who's going to be a good fit for you and your business. Spend time building rapport, and don't forget to focus on adding as much value to them as you possibly can. It's always a two-way street.
When you find a good power team member, treat them like gold. If they do something that helps you earn money, send them a Starbucks gift card or a fruit basket from Edible Arrangements – a little something to let them know how much you appreciate them.
After all you're only as good as your weakest team members.
Begin to build your team today and never settle for anything less than the exceptional. Years down the road, you'll be so glad you did!
Keep it real, keep it classy.
I'm Listening…
Thank you for taking this journey with me. I enjoyed having you come along. I'd love to hear back from you about your thoughts and reactions to this extensive series. Please leave your comments below.
 
Tags: Educator, Mentor, Teacher
Trackback from your site.