Power Team Essentials Part 3: Your Ideal Property Manager

Welcome to the third installment in the awesome Power Team Essentials series. In the previous post, I conducted a one-on-one interview with the investor-friendly real estate agent that I've done business with for many years, Kelly Cook. If you missed it, catch up by checking it out.
Let's go ahead and jump into this blog though…
Property Manager – The Perfect Answer?
To those buy-and-hold investors out there, you've no doubt wondered about the advantages, or the disadvantages, of adding a property manager to your team. In fact, you may have been taught that this is the perfect answer you've been looking to lighten your load.
To that I would say yes and no. The simple act of hiring a property manager is never the be all and end all to lead you to success. Why? Because a bad property manager can cause more problems than you ever want to deal with.
You need to know what to look for and what to steer clear of.
Finding Your Property Manager
You're entrusting a large part of your business to this person, and for that reason alone it needs to be someone who's trustworthy and reliable. But where do you begin to locate such a person?
My suggestion is to talk with other investors. This might include those who attend your local REIA meetings. In my experience, most investors have a whole truckload of property manager stories – some good, some not so good. So listen and learn from them. Don't be in a hurry.
Even if you've received a good referral, it will still pay you to interview several managers before choosing one.
If one of the managers you talk with did not come to you from an immediate referral, then ask for names and numbers of their present clients and contact those individuals. Don't be shy about asking pointed questions.
In a face-to-face meeting, be sure to include a walk-through of the property. Ask questions. Let them tell you what they would do to bring your property to its best use.
Requirements
Your property manager should be licensed and have errors and omissions insurance.
Ask for disclosure of all of their fees. There should never be any hidden fees, which might include:
Remarketing fees if a tenant moves out
Eviction fees
Commission fees if you decide to sell the property during the time you're using the property manager's services
Repair up-charges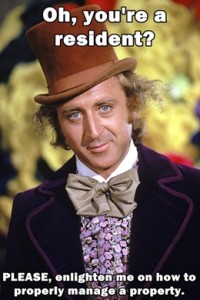 Also, a good property manager should offer flexible, a la carte services giving you the flexibility to decide what services you do or do not want to pay for.
Your Job to Find the Best
It's your job to find the property manager who has a good track record working with investors, a strong marketing strategy to find quality tenants, and a proven pre-screening process to weed out all the losers.
Pre-screening is extremely important, and the managers who are good at this will make you money, and save you from many heartaches. Your manager also must know when to be flexible and when to stand firm on collecting rents.
When you sign on with a property manager, insert a provision into the contract that allows you to terminate the agreement within 30 days. Avoid getting locked in to a long-term agreement with no means of escape.
You should never just hire, then walk away and presume all is well. You must consistently monitor to see how well this manager is caring for your property and tenants. Request and then review monthly status reports – those reports will help you stay on top of the game.
Also, make sure you talk to the occupants to check the company's response to maintenance requests. (Or lack thereof.)
Summing Up
Once you've found a manager whom you can trust, it takes a huge load off your shoulders. Now you're freed up to spend time making money instead of putting out fires.
This relationship should work to the advantage of everyone involved – the property manager, the tenants and you. You can ensure this happens by making the right choice of property manager, and then performing consistent follow up.
Oh… The next awesome installment in this series is a good one – all about Closing Agents. Stayed tuned!
Keep it real, keep it classy,
Cody
Tags: Hidden Fees, Licensed, Property Manager, Reliable, Tenant, Trustworthy
Trackback from your site.