Real Estate Advice from the Best Pitcher in the World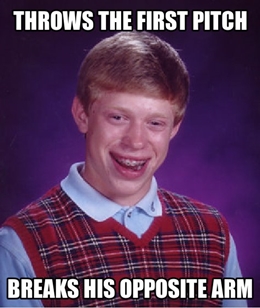 A little boy was at a baseball field and he had a bat and a ball. He said to himself, "I'm the best hitter in the entire world."
He then tossed up the ball, swung his bat… and missed…
Strike 1.
He said it again, "I'm the best hitter in the entire world."
Then threw up the ball, swung a second time… and missed again…
Strike 2.
He then said it a third time with even more enthusiasm, "I'm the best hitter in the entire world!"
He then threw up the ball, swung his bat and missed yet again…
Strike 3.
Then he said, "Well will you look at that? I'm the best pitcher in the entire world!"
I share this with you to illustrate how important it is that we focus on the positives and eliminate any negative thoughts we may have.
Perspective is EVERYTYHING…
I remember when I first got started how hard it was to stay focused on the positive. If you've heard my story, then you already know I had more than a few major speed bumps, hurdles and dips in my first few years. I even lost $10,000 on my first deal – of my Dad's money!
I almost threw in the towel so many times.
But I didn't. I stayed the course.
Every time I got sucker punched, I remember I had to intentionally remind myself not to spiral inward or focus on the negative or the pain of making mistakes.
Instead I had to (i) learn what I could from those experiences, then (ii) quickly reset my eye back on the ball, and refocus my attention on the mind-blowing success I knew deep down I deserved and could achieve if I kept focused.
I'm a dreamer. And I mean, I dream BIG dreams, and it just comes naturally to me today. The world is my oyster.
But it most certainly wasn't always so. Once upon a time, it was a daily fight just to keep from spiraling into negativity and self-doubt. And if working closely with so many mentoring students over the years has taught me anything, it's that the negativity struggle is all too common.
In fact, I think talking about and focusing on our problems is oftentimes one of our greatest addictions.
Break this habit. You can do it.
It's so easy to be a victim and to focus on all the reasons we are not successful… being negative or neutral just won't cut it. If you always speak of your troubles, you'll always have troubles to speak of.
To be a true winner you have to feed your mind positive thoughts each and every day.
Get in focus
T. Harv Eker said it so well:
"What You Focus on Expands…"
So choose your focus wisely!
Or, as the great Tony Robbins says it…
"Where focus goes, energy flows."
I love that one.
By the way, I've met Tony. He's a freaking giant. (Lol!) When I first read his book, Unleashing the Giant Within, I had no idea… Seriously, I'm a taller-than-average guy, but Tony makes me look like a mini-man, doesn't he?
Do whatever you can to go to Tony Robbins' multi-day events. My whole team and I attend them regularly. They'll change your life forever, and I'm not kidding. In fact, much of what we do in our high-end Clever Labs Mentoring events is modeled after what Tony does so well.
So here's your action steps for today:
Choose today to STOP focusing on all the negative stuff. The only thing that makes it a part of your life is that you keep thinking and talking about it.
Instead, feed your mind positive thoughts each and every day.
"Change your tape" in your head, and focus on all the wonderful gifts God has bestowed upon you.
Remember this: Change your thoughts and you'll change your world.
So what do you think?
Any of this resonate? Let's year your thoughts below…
Tags: Change, Dreams, focus, Negative, Positive
Trackback from your site.