Rehabbing 101 – 10 Quick Ways To "Throw Lipstick On A Pig"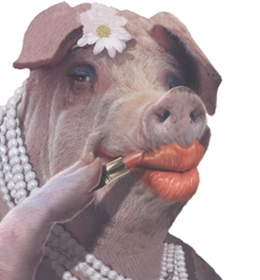 In this business, there's rehabbing and then there's rehabbing. When you hear the term rehabbing, usually the first thing that comes to mind is tearing out walls, gutting kitchens and bathrooms, new sheetrock, and maybe a little plumbing and rewiring thrown in for good measure.
But it's not always that way. On occasion, you'll have a property on your hands that's in reasonably good condition. (Cheers!) However, don't let that be an excuse for running slipshod and putting it on the market too quickly.
In this post, I want to give you 10 great ways in which you can spruce up a house with little investment, little time, but with super results. In other words, you'll be throwing a little lipstick on the pig and making her look good!
Check these out…
1. New Electrical Switch Plates
I don't believe there's any uglier sight than an old, dirty switch plate on the wall – whether for outlets or light switches. Well, there might be one uglier sight… and that is a painted-over switch plate. UGH.
My question is why? This is such a simple, inexpensive, yet striking improvement to make.
New switch plates cost about .50 cents each. For real! This means an entire house can be fitted out with new switch plates for about $20 – if that. Personally, I like to take it a step further… for the foyer, living room and other obvious areas, I go for the nice brass plates. They run about $5 each – well worth it for the added classy touch.
2. New or Improved Doors
Next on my list will be the interior doors. Doors can so easily get scratched, scarred or stained. And some are an ugly brown color. Now you could repaint these, but unless you have a spray gun, it's going to take you three coats by hand. Is it worth your time?
The basic hollow-core door is about $20, which comes pre-primed and pre-hung. Or you could invest about $10 more and get the stylish six-panel doors. If you're in a rehab project, the extra $10 per door is a good investment. For rentals, I like to at least change out the downstairs doors.
3. New Door Handles
If you're going to replace doors, you should also consider changing the handles. Remember what I said about painted-over switch plates? The same goes for door handles coated with old crusted paint. Yuck! It's quick and easy and cheap (about $10) to replace them with new brass-finished handles.
Consider going the extra mile with the fancy "S" handles for your guest bathroom and bedroom doors. They'll run about $20 each.
4. Paint/Replace Trim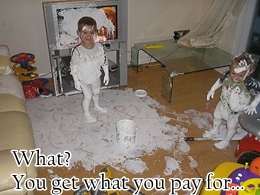 You've checked out this house and you're more than pleased that it will not require an interior paint job. Hooray! But why not add a little sparkle by just painting the trim. If the walls are beige or off-white, you might consider using a semi-gloss bright white on all the trim.
Floor trim usually gets the worst beating. If it's worn, cracked or just plain old ugly, don't even hesitate – tear it out and put in new. Home Depot carries a foam trim that is pre-painted in several finishes and costs less than .50 cents per linear foot.
While you're at it, create a great first impression by adding crown molding in the entry way and living room. This added touch can make a huge difference in appearance.
5. Replace Front Door
Nothing says a warm, friendly "come on in" like an attractive front door. A cheap front door will give a cheap appearance to the whole house. (It's that first impression that counts, remember.) If the front door is old – and looks it – consider replacing it with a new, stylish door, which might cost about $125.
If there's already a nice, heavy door in place, invest in high-gloss, bold paint color and repaint that door. Now you have the pizzazz you're looking for.
6. Tile Foyer Entry
If the front door is the initial impression, the foyer will run a close second. This is where the dirty (sometimes muddy) feet will come in from outside. Consider tiling this front area for ease of upkeep. Then supply a heavy-duty, indoor-outdoor rug that's brightly colored. A great way to perk up the foyer.
7. New Shower Curtains
Don't even consider showing a property (whether selling or renting) with no shower curtains in place. Or worse yet, having an old, stained shower curtain hanging in the bathroom(s). What a great way to make a bad impression!
Invest in attractive curtains that match the color of the bathroom, and top it off with matching rods and rings (hooks). Make sure all colors are coordinated.
8. Paint Kitchen Cabinets
What do the kitchen cabinets look like? Dirty? Stained? Worn? Replacing them will take a big chunk of change. But why not simply repaint? If they're a dark wood, consider brightening that effect – perhaps with white paint. Don't forget to replace all the knobs and drawer pulls. When you have white cabinets, you can opt for knobs of bold, primary colors for a surprise effect.
No need to paint the insides, since you're after the overall effect.
9. Add Window Shutters
For added charm to any house, try putting up shutters on the front windows. Voila! – instant curb appeal. Check out your hardware retailers for pre-primed shutters. Paint with contrasting colors – if the house is a light color paint them a dark shade of green or blue, for example. If the house is a dark color, accent with clean-looking white shutters.
Inexpensive and easy to install. What's not to like about shutters?
10. Add a New Mailbox
The last item on our list is certainly not the least. Like new shutters, a new mailbox means added curb appeal. Check out what the other mailboxes on the block look like. Are they all black? Then why not go for something totally different? Let yours be bold and attention-getting. Metal boxes run about $35, or go for a nice wooden one that will cost around $60. You'll find it's well worth taking that extra step.
There You Have it
There you go, friends. Ten tips to dress up your pig with a little bit of lipstick, i.e., time, effort and a minimum cash outlay.
Taking steps like these can hasten a sale (or draw in a tenant), which means more profit in your pocket. Oink oink!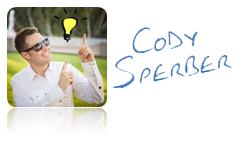 Tags: Bathroom, Kitchen, Paint, Rehabbing, Shutters, Trim
Trackback from your site.