REI Essentials: Direct Mail Leads You Should Target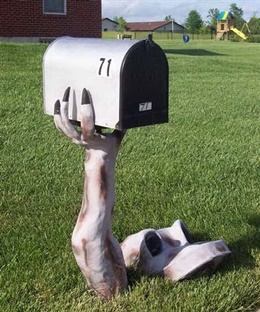 Hey guys, today I've got yet another awesome segment of "REI Essentials" for ya.
When we last powwowed, we talked about the importance of lead generation and how important it is to think of marketing as an investment in your business, rather than a burdensome expense.
Then we took it a step further and really starting cooking with some grease when I challenged you to make 3 difficult but necessary marketing decisions.
Since then, here's hoping you've thought it through and decided on your company's branding, how you want to position your business and what software to implement to capture your leads.
With that, I say congratulations! Now you know who you are, and others will too.
So let's talk about getting those leads through Direct Mail, shall we?
Direct Mail Works. No Really, It Does
Direct mail puts a bad taste in some people's mouths. When they think direct mail, they think waste of money.
But to that I say "au contraire mon ami" (that was hot, right?).
Direct mail absolutely works if you know how to work it, and the success of your direct mailings boils down to two major factors:
If you design your postcard effectively AND you mail with frequency (hit it and quit it isn't going to work with direct mail), then you will see a return on your investment almost immediately.
Remember, it's all about positioning and the perception of your potential seller. How do you want them to perceive you? Do you want them to perceive you as a small mom-and-pop shop or as a large investment firm?
If you've done your homework since we last met, you already know the answer. So design your postcard mailing with your positioning in mind. Use colors, fonts and images that reflect who you are.
Make sure NOT to use too many words on any direct mail. Get to the point quickly, include a call to action and make a statement.
Create a piece (or pay someone to do it for you) that grabs sellers' attention, sets you apart from the competition and ultimately gets the phone ringing off the hook.
Then mail it as many times as you can afford to do so.
3 Leads to Target
With your rockin' direct mail piece, you want to get in front of 3 main audiences as quickly as you can. I'm talking about…
Cash Buyers
Motivated and Distressed Sellers
Hard Money and Private Money Lenders
But once you're in front of them, how do you know they will bite? It all comes down to this phrase, my friends – Action Threshold.
Allow me to explain this theory of action threshold, which is defined as the unconscious part where a person becomes motivated to take action. Something eventually triggers people to cross over their tipping point and take action.
To put it in mathematical terms, action threshold is the sum of perceived benefits minus the self-limiting beliefs about buying something. You know… the voice of doubt.
A good salesperson, however, knows how to tip someone past their action threshold to inspire that needed action.
So your goal is to craft a marketing message that powers through the clutter. You want to wow your prospects with your marketing message! So make sure you have a strategy and never ever, ever wing it. That's a recipe for disaster, every time.
Motivated Seller Leads: A Formula for Success
Say it. Repeat it. Take a picture. Print it out, and post it on your desk.
Motivation + Equity = Deals
This is your go-to formula for getting motivated sellers, but you need to understand the perceived benefits (from your seller's perspective) of actually selling before you can begin crafting your marketing message.
Here's what I mean…
Your seller believes that if they sell to you (not to the competition), they will receive all cash and cash now. They are enticed by the concept of "buy as is," and they can already feel the stress leaving their bodies just knowing that they're about to sell their distressed property. They love the idea of no hassles, quick closings, no repairs needed, and that they can sell at any price range.
In short, these are all perceived benefits that will push your sellers past their action threshold and ultimately make them pick up the phone to call you. You need to pitch these positives and limit the negatives if you want to see some action.
It's that simple.
Real Estate Investment Psychology 101
Understanding the psychology behind your interactions with prospects will make you better understand how to market to, speak to and work with them, plus you'll seem more like a professional, and it will make them want YOU over the other guy.
Always remember to connect with your prospects. Find some common ground, build rapport with them, and yes, they will trust you.
And as always, be genuine and well-intentioned with your interactions.
By the way… when we circle back together next time, we'll talk about specifically targeting cash buyers and private money lenders.
Cody…out!
Tags: Action Threshold, Cash Buyers, Design, Direct Mail, Distressed Sellers, Equity, Frequency, Hard Money Lenders, Leads, Motivated Sellers, Private Money Lenders
Trackback from your site.