The Best Way to Use Craigslist to find Deals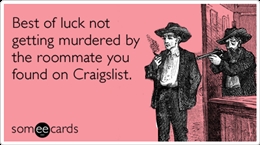 Howdy, people. Today I want to answer another question from a fellow reader, Dan Peters from Clover, South Carolina asks:
"I know that investors have had success advertising on Craigslist, but I'm just not having any success at this. Can you give me some advice on the best way to use Craigslist to find deals? Thanks!"
For those of us who know specifically what to do on Craigslist, think back to a day when Craigslist first came out and every investor on the planet was trying to figure out how to crack that code. Now, years later, Craigslist has cracked down on people spamming on Craigslist (people posting multiple times on the site) and it's become much more difficult.
But, Craigslist is still a powerful online marketing tool because a lot of the competition isn't using it like they were back in the day.
4 Ways to Use Craigslist
Video Advertising on Craigslist (which I teach in my Fast Track course videos). Now, Craigslist does not support uploading video features at the moment, so you will have to research how to do this or take my lessons through Fast Track. These videos are powerful and extremely high conversion, so if you don't know how to do this, it's something you should look into.
Create Your Own HTML Ad. I think most of you are familiar with what these are. To do this, you have to know a little about writing HTML code. Craigslist has a guide to help.
Have Your Virtual Assistant Post "Test Only" Ads (specifically the "We Buy Houses" text-only ads). I'm sure you guys are familiar with this. It's your basic ad explaining you buy houses in any condition, with your contact information.
Scraping. This is pretty ninja… I have my virtual assistant look for the actual homeowner themselves and then I have them scrape off those phone numbers from all the FSBO (For Sale by Owner) and FRBO (For Rent by Owner) listings…
They find those phone numbers of homeowners (not the real estate agent's or property manager's) and put them into an excel list. Chances are that these are cell phone numbers. So then I have them log in to my Google Voice account (to the actual physical account, not just on my phone, but actually log in using my username). My VA will grab 5 phone numbers at a time and send out a pre-written text message that basically says:
"I'm a local cash buyer that's interested in making an all-cash offer on your property. If you're interested in…"
If anybody replies, my virtual assistant notifies me and I take it from there. That's a quick way to get motivated sellers on the line with you.
Okay, so Craigslist can be a really resourceful tool for investors, but it's important to stay on top of technological changes and trends for what is and isn't working.
But as of right now, video ads are at the top of the list, followed by custom HTML ads, the good ol' faithful "We Buy Houses" text-only ads and then cell phone scraping. Now have at it!
Until next time, folks…
Be fruitful
Tags: Advertising, Craigslist, Marketing, Online Resource, Virtual Assistant
Trackback from your site.