Does Your Website Suck Leads, or Just Suck (Part 2)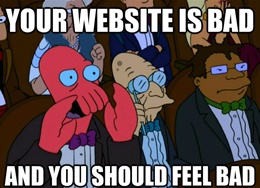 Hey guys, its Cody here, and I'm back again to keep it real and to talk more about whether your website sucks lead or just plain sucks.
Here's hoping for the latter.
But if your site does suck according to the guidelines we covered in Part 1 of this blog post, know you're not alone. I'll share with you a funny story about how bad my first few websites sucked, but first let's take a hot second to review Part 1 of this awesome blog series…
We talked about the psychology of selling, how your website should be all about generating leads, how to amp up your site, the placement of key information (above the fold), to squeeze or not to squeeze (vs. catalog site,) and the art of the ethical bribe. Loads of awesome stuff, so make sure you check it out.
As if that wasn't enough to make your head spin, but (hopefully) get your productive juices flowing, now we're going to put under the microscope two websites that illustrate visually many of the key concepts I covered in Part 1 – one of them hits really high on all marks, while the other is really pretty bad from a conversion standpoint (though it ranks in the search engines really well).
Funny thing is, I actually own them both, ha! For real.
Watch and Learn What NOT to Do
I admit it. My first website creation was less than perfect. It sucked, in fact. Like, really sucked. Isn't it ironic… don't you think?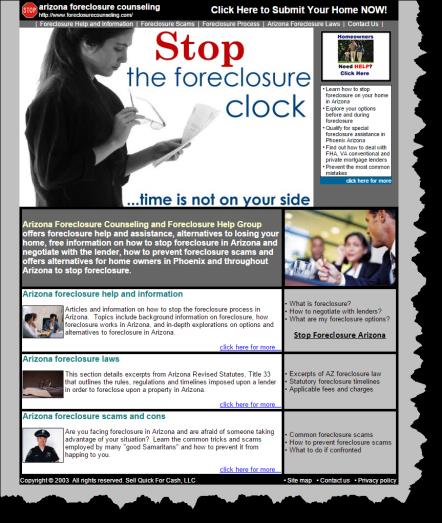 Here are the issues…
It lacked direction and a call to action; it was confusing; and the pictures were weak.
Even though this site maintained prime real estate on Google, it simply didn't convert well. And that's the lesson here, kids.
If your site is overwhelming, overloaded with information and pointless pictures, and difficult to navigate, you will HURT your web traffic, your lead generation, and ultimately the success of your real estate business.
An Example that Kicks Butt and Takes Names, Literally
So you've seen a sucky site, one of my first web creations. Hey, ya gotta start somewhere, right? Now it's time to show you one of my best.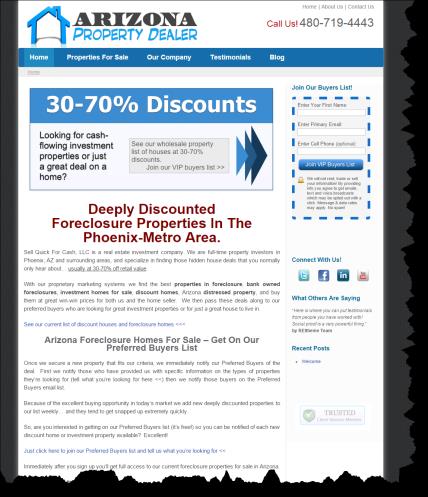 Here's what's awesome about my site…
First and foremost, it has an in-your-face offer front and center. Bam! The offer jumps out immediately, and the page is clear, concise and clutter-free. Every page shares the same goal, which is super important – to capture leads.
Your eyes flow naturally from left to right and up to down, right? So your page should follow suit. Be sure to place your content in order of importance with that natural eye flow in mind. Put lead capture information where eyes will naturally land.
My first sucky site was confusing and all over the map versus this awesome site, which is very clear and directs you where to go.
Website Wrap-Up
Creating a website that leads to conversions and drives business is all about simplicity and strategic placement of key information. Remember that your end goal is data capture, so be sure to direct visitors to those points of entry on each page.
Keep it clean, keep it clear, and as always… keep it classy.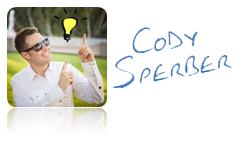 Tags: Concise, Conversion, Data Capture, Leads, Navigation, Website
Trackback from your site.